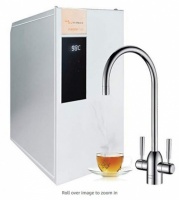 Boiling Water Tap£699.00
The Intrix Kettle Tap* is ideal for:
- Making cups of tea, coffee and hot beverages.
- Making soups, pasta and pot snacks instantly.
- Filling cookery ware with boiling filtered water, reducing cooking time.
- Cleaning up stuborn stained cooking dishes.
- Safe to use for children and the elderly.